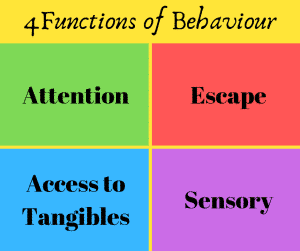 Read time: 3 minutes
When developing behaviour intervention plans, behaviour analysts investigate the environmental conditions that create opportunities for challenging behaviours to happen.  We look at the functions of behaviour.
In other words, we look at the antecedents (or what is happening before a behaviour) and the consequences (or what is happening after a behaviour) to determine how the behaviour is maintained.
Behaviour analytic researchers have shown that there are 4 main functions of behaviour that perpetuate every behaviour. Sometimes a behaviour will serve one function but more often it can serve many.  Functions of behaviours can also change over time. The 4 functions of behaviours are: access to tangibles, access to social attention, escape or avoidance of undesired situations and automatic reinforcement (sensory).  

The functions of behaviour don't always equal their topographies
Sometimes it can be easy to confuse the function of a behaviour with it's topography. Topography is the description of what the behaviour looks like not why it is occurring. For example, to say that someone is chewing is describing the topography of their behaviour not the function.
Once the functions of a behaviour have been discovered the behaviour analyst will develop a replacement behaviour that meets the same need, is easier and is 100% effective. Another important aspect of changing behaviour is to stop reinforcing the target behaviour.
If your child is engaging in an attention seeking behaviour, say calling out in class without raising their hand, the replacement behaviour could potentially be teaching the child to raise their hand to have the teacher call on them. In order for this replacement behaviour to take hold, the teacher has to be committed to always call on the child when they raise their hand and to ignore all instances of calling out. If the teacher continues to reinforce the calling out behaviour, there will be no reason for the child to stop.  
It's important to remember that reinforcing doesn't only mean being positive about something.  In applied behaviour analysis, when you reinforce something you're simply making it more likely to happen again. If a child is engaging in a behaviour that is maintained by escape and you put them in a time out you are reinforcing their escape maintained behaviour, even though being in a time out is not fun.
If a child doesn't like to eat their vegetables and swears at the dinner table and is sent to their room as a consequence the child's swearing behaviour is being reinforced because they were allowed to escape or avoid eating their vegetables.  The child has learned that by swearing they will be sent away from the table and will not have to eat their vegetables.
Often the way to change behaviour is to do the opposite of the function while replacing the target behaviour with an alternative.  If the behaviour serves the function of escape or avoidance you would not allow the child to escape or avoid the situation. If the child is gaining attention from the behaviour you would want to limit attention (ignore the behaviour, not the child). If the behaviour allows the child to gain access to something tangible you would want to not allow access.
There are many ethical debates about whether it is okay to intervene in self-stimulatory behaviours (flapping, pacing, jumping etc). I believe that we should not stop someone from doing something simply because of how it looks to others.  Typically developing people engage in self-stimulatory behaviours (humming, playing with their hair, fidgeting) and no one is putting a behaviour interventions in place to stop them. If a sensory maintained behaviour is dangerous (self-injury) or disruptive then there needs to be intervention and a replacement behaviour should be established. 
Click here to read about the elements of a behaviour intervention plan.
If you would like some help determining the functions of your child's challenging behaviour contact Lindsey by phone at 1.877.797.0437 or by email.